Southern Contracting
Southern Contracting has been Georgia's #1 Residential Structural Repairs and Foundational Repairs Company Since 1984. See what our Experts can do for YOUR Georgia Home! Call or Contact us today!
"Southern Contracting did a great job on leveling my home's foundation as well as fixing a garage floor that was slowing sinking down a hill. All very reasonably priced for the amount of work that needed to be done. Would highly recommend."
Satisfied Georgia Resident
The Southern Contracting Mission
Some companies brag about their years of existence. Some companies brag about their combined years of experience. Some companies brag about their bottom line, or how many jobs they roll through in a given year. The folks at Southern Contracting don't like to brag about those things. In fact, the folks from Southern Contracting don't really like to brag at all. We like to let our services be the proof of our value to our friends and neighbors in the great State of Georgia. There are a lot of structural repair and home foundational repair companies in Georgia that you could choose to do business with. And you might have a positive experience with them. We hope you do. But we can guarantee that no other structural fix company will be as thorough as Southern Contracting. When we do whatever is necessary to level your interior floors, or fixed your bowed basement walls, or perform any other home structural repairs, we guarantee our services will last. We offer more lifetime warranties on services on some of the most difficult structural repair services than any other Georgia company. When your Georgia home needs structural or foundational repairs, check around all you want to. But please, don't decide before you get a FREE On-Site Assessment from Southern Contracting, LLC.
A Brief History of Southern Contracting, LLC
By the early 1980s, Jeff Hall had already been in the contracting world for some time, and had discovered a knack for performing difficult and sensitive structural repair jobs for Georgia homeowners, business owners, and municipal representatives. His earliest days of structural repairs were heavily involved in repairing the structure of and securing the foundation of Antebellum homes throughout the South. The allure to these beautiful, historic homes, and his success in preserving their structural integrities, led Jeff to seek out his current business name, Southern Contracting. It takes a lot of patience, carefulness, confidence, and desire to be known as the guy who helps save Antebellum homes. This is especially true in the great State of Georgia, where so many beautiful Antebellum homes were lost to William T. Sherman's army in the War of Northern Aggression. Restoring and preserving the structure of Antebellum homes across the South was special to Jeff Hall in part because it was special to the Southerners who owned these beautiful homes.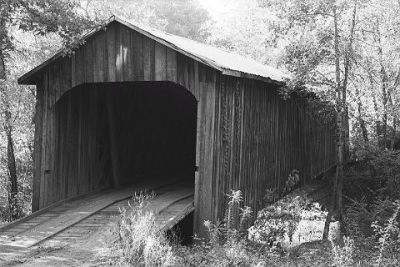 The successful restoration of the 113-year-old Kilgore Mill Bridge in 1988 was one of the first historical restoration jobs for Southern Contracting. (Read more about the Kilgore Mill Bridge project.)
One of the longstanding proofs of Jeff's abilities as a structural restoration artist, and of his affection for restoring historic homes is the home and property now known as Cloverleaf Farm, which is located just outside Athens, GA. One of his earliest complete projects, Jeff owned, restored, and even lived at the beautiful location for several years. Today, Cloverleaf Farm is one of the South's most beloved and beknown wedding venues. It's only fitting that such a beautiful, historic property is now utilized to help facilitate Dream Weddings for so many southern couples. Today, it is still the goal of Jeff Hall, and the entire Southern Contracting family, to help dreams come true for Georgia homeowners from all walks of life. If you need Floor Leveling, Interior Floor Leveling, Sagging Floor Repair, Basement Wall Repair, Structural Repairs, Pressure Grouting, or any other Structural or Foundational Repair Service that Southern Contracting offers, please don't hesitate to call or contact us! Our On-Site Assessments are FREE, so there's nothing to lose by calling or contacting our professionals today. Structural Problems won't get better on their own! But you don't have to go at it alone. We can help! Call or Contact Southern Contracting for a FREE On-Site Assessment today!